We undertake exports of Waffel Bath Robes as per the following specifications: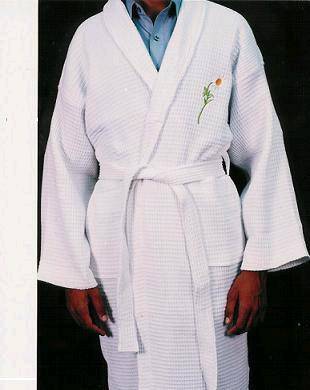 ITEM: Kimono/shawl style bath robes with a waffel weave pattern .

QUALITY: 100% COTTON

GSM: 250

CONSTRUCTION: 20/2 X 10/1 48 X 44

DELIVERY: WITHIN 60 DAYS AFTER RECEIPT OF VALID LETTER OF CREDIT

PAYMENT: BY IRREVOCABLE AND UNRESTRICTED LETTER OF CREDIT DRAWN AT SIGHT

We now invite your valuable inquiries/orders.

In case your requirement differs please do not hesitate to contact us.


The complete details of our firms are as under:
NAKHUDA INTERNATIONAL,
C-7, BAB-E-REHMAT, 3RD FLOOR,
GULSHAN-E-IQBAL, BLOCK 13-B,
KARACHI-75300
PAKISTAN
TEL: 92-21-34982565
MOBILE: 92-313-2392477, 92-334-2676390
Skype : nakhuda11545
URL: http://nakhuda.diytrade.com
http://www.nakhuda.synthasite.com
CONTACT US: nakhuda786@yahoo.com

Copyright © 2009-2013 Nakhuda International. All Rights Reserved
Easy Free Borders from
TagBot Borders